TaskPaper allows you to filter your view in three ways:
Fold a project to hide the items it contains
Focus a project to see only that project and the items it contains
Run a search to filter out items that don't match
In each of these cases it is not always clear how the text selection interacts with the hidden items. For example if you fold a project, and then select the project and "copy", do the folded items also get copied? I'm trying to make interaction with these hidden items clearer and more consistent with two changes:
Visible Changes
A light dashed line is drawn when there are "selectable" hidden items
A bold dashed line is drawn when there are "selected" hidden items
Logical Changes
"Selectable" hidden items must have a visible ancestor (this is not actually a change)
"Selected" hidden items must intersect the selection and their visible ancestor must also be selected
An Example
A simple outline: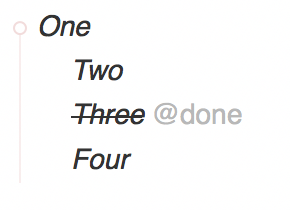 The same outline with item three filtered out. Notice that theres now a light dashed line to let you know that there are selectable hidden items in this view: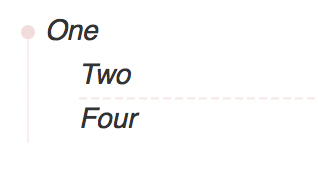 Items "two" and "four" selected. This is a change, not that item "three" is not selected in this case, because it's visible ancestor "one" is not selected. This makes it possible to work on items in a filtered view without also effecting the hidden items.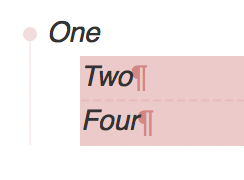 In this last case item "three" is part of the selection, because it's visible ancestor (item "one") is also selected. You can tell that the hidden item is selected because the dashed line is bolded and more visible. I think it makes sense to included hidden items in this case, for example if you "cut" the below selection you would want to leave item "three" abandoned… it show be included with it's visible parent that is also being "cut".
Issue Tracker
If you don't see your problem in the issue tracker then I've missed it. Please help by adding an issue or sending me a reminder. Issues in Ready and In Progress states are for v3.5.
Download