Hi all,
I'm a long time lurker here this is my first post.
I'm using Taskpaper on my computer as my primary task list.
On my phone I just have some shortcuts for adding tasks to my list and viewing.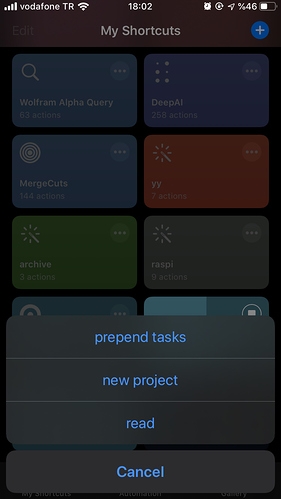 this shortcut has three options
1- prepend tasks : just write your tasks, every new line converted to a task and prepended to your taskpaper document
2- new project: same as above but asks for a project name first and prepend project name with : to top of your taskpaper document
3- read : Just a quick view for your taskpaper file
share sheet
I'm using this shortcut to send tasks to my list from anywhere on ios. Just select the text/url/mail adress and share it with this shortcut, your selection becomes a new task on top of your document
dictation
this shortcut just listen you to dictate a task and when you stop speaking it becomes a task on top of your taskpaper document.
if you want to use this shortcuts just edit the file key of dictionary to your file location in my case its on dropbox.