Out of the box, Pandoc already does a useful job of translating .bike files directly to formatted MS Word .docx files.
If we start with a Bike file like: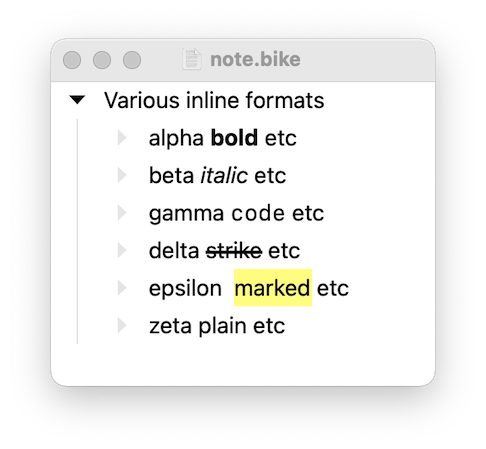 then, with pandoc installed (e.g. with brew install pandoc) the command line:
pandoc -f html -t docx note.bike -o note.docx

creates an MS Word file like: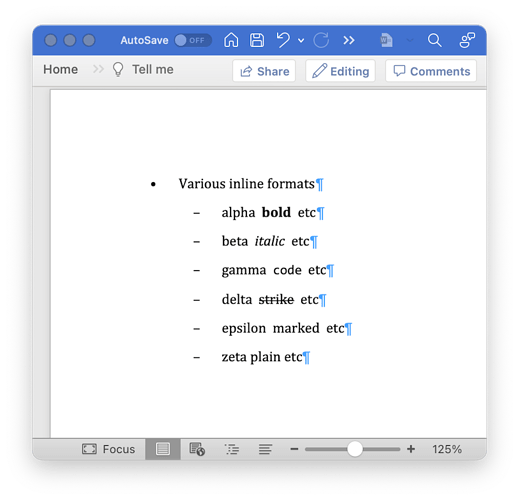 In which only the highlight formatting ( underlying <marked> tagging) has not been translated automatically.
---
I haven't, so far, experimented with customizing pandoc outputs, but it does appear to be possible. The .docx XML markup that we would need to generate, for example, has this kind of pattern:
<w:r w:rsidRPr="00F12617">
    <w:rPr>
        <w:highlight w:val="yellow"/>
    </w:rPr>
    <w:t>marked</w:t>
</w:r>

---
More generally, pandoc translates bike files to an intermediate (JSON-formatted abstract syntax tree) format which can be represented (and post-processed) in JavaScript or Lua etc. For example,
pandoc -f html -t json note.bike -o note.json

Gives us the JSON representation below which:
preserves the <mark> tagging for the highlight format, and
should allow for transforms like designating the top N levels of an outline as heading levels, etc
Expand disclosure triangle to view Pandoc JSON AST source

{
  "pandoc-api-version": [
    1,
    22,
    2
  ],
  "meta": {},
  "blocks": [
    {
      "t": "BulletList",
      "c": [
        [
          {
            "t": "Div",
            "c": [
              [
                "P9",
                [],
                []
              ],
              [
                {
                  "t": "Para",
                  "c": [
                    {
                      "t": "Str",
                      "c": "Various"
                    },
                    {
                      "t": "Space"
                    },
                    {
                      "t": "Str",
                      "c": "inline"
                    },
                    {
                      "t": "Space"
                    },
                    {
                      "t": "Str",
                      "c": "formats"
                    }
                  ]
                },
                {
                  "t": "BulletList",
                  "c": [
                    [
                      {
                        "t": "Div",
                        "c": [
                          [
                            "vi",
                            [],
                            []
                          ],
                          [
                            {
                              "t": "Para",
                              "c": [
                                {
                                  "t": "Span",
                                  "c": [
                                    [
                                      "",
                                      [],
                                      []
                                    ],
                                    [
                                      {
                                        "t": "Str",
                                        "c": "alpha"
                                      },
                                      {
                                        "t": "Space"
                                      }
                                    ]
                                  ]
                                },
                                {
                                  "t": "SoftBreak"
                                },
                                {
                                  "t": "Strong",
                                  "c": [
                                    {
                                      "t": "Str",
                                      "c": "bold"
                                    }
                                  ]
                                },
                                {
                                  "t": "SoftBreak"
                                },
                                {
                                  "t": "Span",
                                  "c": [
                                    [
                                      "",
                                      [],
                                      []
                                    ],
                                    [
                                      {
                                        "t": "Space"
                                      },
                                      {
                                        "t": "Str",
                                        "c": "etc"
                                      }
                                    ]
                                  ]
                                }
                              ]
                            }
                          ]
                        ]
                      }
                    ],
                    [
                      {
                        "t": "Div",
                        "c": [
                          [
                            "Ru",
                            [],
                            []
                          ],
                          [
                            {
                              "t": "Para",
                              "c": [
                                {
                                  "t": "Span",
                                  "c": [
                                    [
                                      "",
                                      [],
                                      []
                                    ],
                                    [
                                      {
                                        "t": "Str",
                                        "c": "beta"
                                      },
                                      {
                                        "t": "Space"
                                      }
                                    ]
                                  ]
                                },
                                {
                                  "t": "SoftBreak"
                                },
                                {
                                  "t": "Emph",
                                  "c": [
                                    {
                                      "t": "Str",
                                      "c": "italic"
                                    }
                                  ]
                                },
                                {
                                  "t": "SoftBreak"
                                },
                                {
                                  "t": "Span",
                                  "c": [
                                    [
                                      "",
                                      [],
                                      []
                                    ],
                                    [
                                      {
                                        "t": "Space"
                                      },
                                      {
                                        "t": "Str",
                                        "c": "etc"
                                      }
                                    ]
                                  ]
                                }
                              ]
                            }
                          ]
                        ]
                      }
                    ],
                    [
                      {
                        "t": "Div",
                        "c": [
                          [
                            "il",
                            [],
                            []
                          ],
                          [
                            {
                              "t": "Para",
                              "c": [
                                {
                                  "t": "Span",
                                  "c": [
                                    [
                                      "",
                                      [],
                                      []
                                    ],
                                    [
                                      {
                                        "t": "Str",
                                        "c": "gamma"
                                      },
                                      {
                                        "t": "Space"
                                      }
                                    ]
                                  ]
                                },
                                {
                                  "t": "SoftBreak"
                                },
                                {
                                  "t": "Code",
                                  "c": [
                                    [
                                      "",
                                      [],
                                      []
                                    ],
                                    "code"
                                  ]
                                },
                                {
                                  "t": "SoftBreak"
                                },
                                {
                                  "t": "Span",
                                  "c": [
                                    [
                                      "",
                                      [],
                                      []
                                    ],
                                    [
                                      {
                                        "t": "Space"
                                      },
                                      {
                                        "t": "Str",
                                        "c": "etc"
                                      }
                                    ]
                                  ]
                                }
                              ]
                            }
                          ]
                        ]
                      }
                    ],
                    [
                      {
                        "t": "Div",
                        "c": [
                          [
                            "uA",
                            [],
                            []
                          ],
                          [
                            {
                              "t": "Para",
                              "c": [
                                {
                                  "t": "Span",
                                  "c": [
                                    [
                                      "",
                                      [],
                                      []
                                    ],
                                    [
                                      {
                                        "t": "Str",
                                        "c": "delta"
                                      },
                                      {
                                        "t": "Space"
                                      }
                                    ]
                                  ]
                                },
                                {
                                  "t": "SoftBreak"
                                },
                                {
                                  "t": "Strikeout",
                                  "c": [
                                    {
                                      "t": "Str",
                                      "c": "strike"
                                    }
                                  ]
                                },
                                {
                                  "t": "SoftBreak"
                                },
                                {
                                  "t": "Span",
                                  "c": [
                                    [
                                      "",
                                      [],
                                      []
                                    ],
                                    [
                                      {
                                        "t": "Space"
                                      },
                                      {
                                        "t": "Str",
                                        "c": "etc"
                                      }
                                    ]
                                  ]
                                }
                              ]
                            }
                          ]
                        ]
                      }
                    ],
                    [
                      {
                        "t": "Div",
                        "c": [
                          [
                            "V3",
                            [],
                            []
                          ],
                          [
                            {
                              "t": "Para",
                              "c": [
                                {
                                  "t": "Span",
                                  "c": [
                                    [
                                      "",
                                      [],
                                      []
                                    ],
                                    [
                                      {
                                        "t": "Str",
                                        "c": "epsilon"
                                      },
                                      {
                                        "t": "Space"
                                      }
                                    ]
                                  ]
                                },
                                {
                                  "t": "SoftBreak"
                                },
                                {
                                  "t": "Span",
                                  "c": [
                                    [
                                      "",
                                      [
                                        "mark"
                                      ],
                                      []
                                    ],
                                    [
                                      {
                                        "t": "Str",
                                        "c": "marked"
                                      }
                                    ]
                                  ]
                                },
                                {
                                  "t": "SoftBreak"
                                },
                                {
                                  "t": "Span",
                                  "c": [
                                    [
                                      "",
                                      [],
                                      []
                                    ],
                                    [
                                      {
                                        "t": "Space"
                                      },
                                      {
                                        "t": "Str",
                                        "c": "etc"
                                      }
                                    ]
                                  ]
                                }
                              ]
                            }
                          ]
                        ]
                      }
                    ],
                    [
                      {
                        "t": "Div",
                        "c": [
                          [
                            "du",
                            [],
                            []
                          ],
                          [
                            {
                              "t": "Para",
                              "c": [
                                {
                                  "t": "Str",
                                  "c": "zeta"
                                },
                                {
                                  "t": "Space"
                                },
                                {
                                  "t": "Str",
                                  "c": "plain"
                                },
                                {
                                  "t": "Space"
                                },
                                {
                                  "t": "Str",
                                  "c": "etc"
                                }
                              ]
                            }
                          ]
                        ]
                      }
                    ]
                  ]
                }
              ]
            ]
          }
        ]
      ]
    }
  ]
}