In most cases, automatic links are welcome, as they are useful in many ways.
If you are considering this area, you may want to consider measures for the case of "I don't want to be automatically linked".
Specifically, like "ca.tv".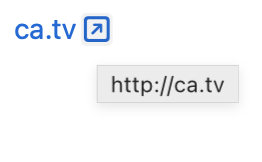 At present, only links are automatically interpreted in Bike, but not limited to links, a method of specifying "This range (including those that may be added in the future) will not be automatically interpreted and will follow the instructions for rich text" may be necessary.