I'm bumping into two issues that feed into each other. My recommendation in the subject would fix things IMO, but here's what's going on…
---
One of the issues is that outline and text editing modes look nearly identical if an entire item is selected: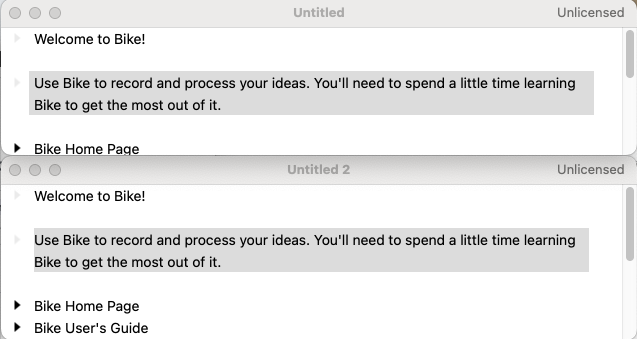 (The distance from the text to the edge of the highlight is slightly different.)
Sometimes, pressing ⎋ puts the cursor in the text, so the mode change is obvious, but sometimes it selects the whole line and the highlight box just moves a little bit. I haven't been able to figure out how Bike decides which of those to do.
---
The second issue is that I can't find a reliable sequence of hotkeys for editing the current item.
If I'm in text editing mode, then ← or → work to put me at a predictable part of the text. But if I'm in outline mode, that collapses or expands stuff, messing up my view.
⌘:leftwards_arrow_with_hook:, ⌫ has a similar downside. If I'm in text editing mode, then it puts the cursor at the end, but in outline mode, it puts me at the next item, still in outline mode. (I was actually using
for a bit before I realized this was actually deleting the selected text whenever I was in text editing mode without realizing it.)
Neither of these would be problems if I could always tell which mode I was in.

---
So yeah. If pressing ⎋ always inserted the cursor at the end of the line, then ⎋ could be the only hotkey I need, and it would work like the last outliner I used (Logseq). If I were already in text editing mode without realizing it, I'd just have to tap ⎋ a second time.
Thanks for Bike!