I often have quite a few projects I am working on in TaskPaper that I am Focused In on. Like this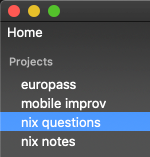 Currently to switch between them, I have to activate Go to Project... and type out the project I want to jump to. This is awesome. However I really wish you could quickly switch between top active projects (the first 6 at least) with hotkeys.
I would really appreciate having this feature added. As I often am working on multiple projects at same time and want to switch between them super fast and Go to Project... is too slow for me at those times.
Thank you.