I have three sub-projects setup under a main project called Consume (basically it is how I organize my tasks for books/podcasts/movies).
In the sidebar, when I click on the triangle, the main project opens up, showing the three sub-projects (which is great!).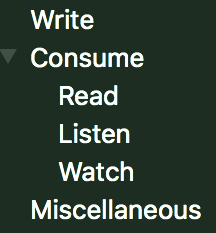 If I quit and restart TaskPaper, the main project is collapsed in the sidebar (meaning that TaskPaper doesn't remember its previous state).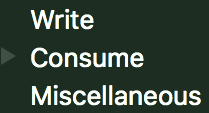 Presuming that this isn't intentional behavior, can this be fixed in a future update? Thanks Jesse!